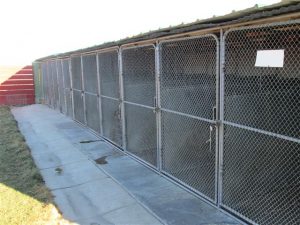 History:

Weona started as a kennel for the military K9 team when Malmstron AFB didn't have a facility. Weona opened in 1953 as Great Falls' first boarding kennel.
Weona has had a few owners and lease operators over the years. In 2009, Sandy and Rick Larson took over ownership and have been working diligently to restore and improve the kennel. With lots of clean-up and care, Weona is once again the kennel of choice. Weona now offers expert pet care with over 25 years of experience with both small and large dogs and cats.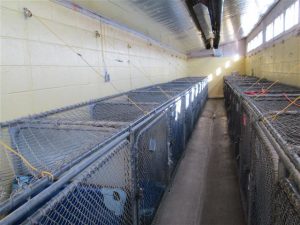 Facilities:
We are situated on 2 acres, located just outside the Malmstrom AFB main gate.
We feature separate outdoor play areas for small and large pets. We offer a 320 gallon pool during the summer months for the dogs to enjoy.

Kennels: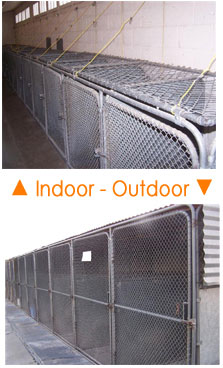 Kennels are disinfected twice a day and are cleaned as needed. Each indoor-outdoor kennel is 30 feet long.
A few kennels are 5 feet wide and 20 feet long. Our kennels are unique in that they allow the dogs to be separated but part of a larger pack family.
The indoor section is heated and is designated as a sleeping area. The outdoor section  is accessible anytime for your dog so he doesn't have to wait to be taken outside.
Weona is the only kennel to offer outdoor kennels, only used during the summer months.
We use stainless steel bowls and water is fresh daily. Each kennel features a raised bed for your dog's comfort. Clients always comment on how quiet the kennels are.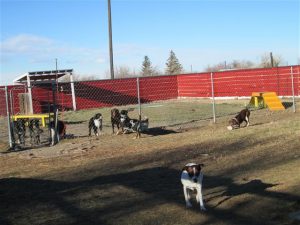 Care:
We understand dogs are social animals and that they should be allowed group exercise when temperaments allow.
All dogs are supervised in groups. If ANY aggressive behavior is displayed he or she is put in their own play area.
All dogs get playtime for no additional cost.
Smaller dogs have their own playtime. Playtime is twice a day for an hour or more each day depending on weather.  Medicines and shots are given without an additional cost.
We encourage you to stop by anytime and take a full tour of our grounds and kennels.
The cost of boarding your beloved pet shouldn't matter, but good care and clean
kennels don't need to break the bank.


LOCAL COMPETITOR PRICES